Tuesday, April 29, 2008
Posted by

D*star
at 11:04 PM
7 comments:

Ok so this past weekend was the first weekend we had all the squad cars in proper working order for a VERY long time. After months of hard work Trucky finally got his SR running well the night before. Were also going to introduce another squad car we hadnt showed before, Frankmons clean S14 Zenki. Onwards to pics...
Posted by

D*star
at 10:51 PM
1 comment:

Tuesday, April 8, 2008
This weekend was arguably the first weekend of nice weather here in Chicago. Temps were in the Mid 60's for most of the day. As such, the squad got together for some good hangout times in D*squad Alley. Heres some pics of the madness.
Some of the squad cars parked in the alley. Neighbors love us.
Truckys expensive paperweight.
A great image depicting the sport of Pigeon hunting in the Ghetto.
Posted by

D*star
at 12:40 AM
2 comments:

The D*Star car is done as far as this past winters build goes. The car is not as crazy and legit exterior-wise as I intended it to be. Originally I was only going to go full out on the exterior and interior for this winter. But i decided that I needed some power to continue to let my drifting skills grow. As i had almost maxed out the potential of the ka. As such a large portion of the build funds went to the SR and related items. Leaving me with only so much to do what i wanted with the outside. I made do though, and I think it looks decent enough for now. Definetly captured the look I was going for. Ive pulled the fenders more since this pic and i have yet to slam it proper and get some good size tires for the front also.
And heres the inspiration for comparison.
As time goes by ill get some more tidbits like full vinyl, Taillights, overfenders all around, legit wheels, hood, tails, and finally, PAINT! But for now its enough to make me happy to have a cool car again(and with power). Only thing left to do before i go drifting again is sort out my power steering and put my welded in.
The Roski car got out of the paintshop this past weekend. It looks pretty good. Theres some bondo patches here and there but it still looks great. D-max tails are definitely a style boost.
All thats left on this one is to put the 5 lug on the front with the Work's, space them a tiny bit, and slam it.
-D*star
Posted by

D*star
at 12:07 AM
1 comment:

Wednesday, April 2, 2008
Another Squad car we havent touched on is Roskis S13 Fastback. He's only had the car about 6 months and just started his mini-build last month. He started with a busted, but 100% rust free chassis that looked like this.
We replaced the whole front end from the doors forward,fenders,hood,bumper support, headlamp assemblies, and lined everything up correctly, replaced the rear hatch, put his aero on, rolled the his fenders, installed and set his Stance suspension, and put his Works on in the rear, were waiting on some 5 lug stuff to put his fronts on.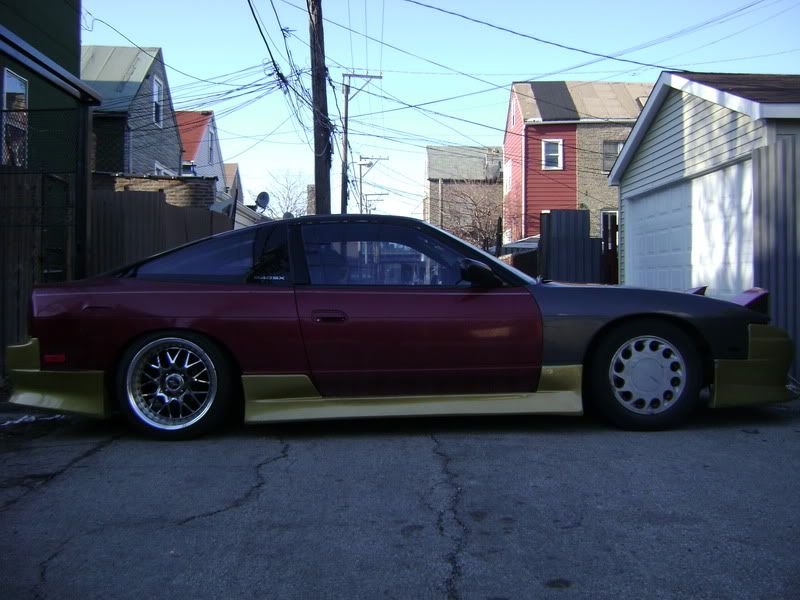 The car is currently off at the paint shop getting some bodywork and full spray job, should be back this weekend. Theres alot more parts and details of the build obviously but this is just a progress report. For detailed walkthrough of Roskis build go
HERE
.
In other Squadron news, the D*star car is nearing completion after the arrival of some much needed pieces to the puzzle. Heres a quick peek. More pics and info soon.
Next post, we will show yet another Squad members car and hopefully some near finished pics of some of the other builds.
Until then.
-D*star
Posted by

D*star
at 2:34 AM
2 comments: